wir machen was has effectively and competently supported you in your professional and personal life situation.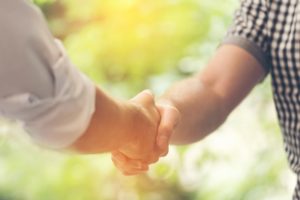 Read on – some examples:
✓ New works agreements, eg.:
Right to baby sabbatical until the child is 1 year old
Right to nursing sabbatical and nursing part-time without the requirement of an official nursing necessity degree
Comprehensive set of measures in connection with the cost saving measures for part-time work, leisure time, pre-pension solutions, professinal reorientation
Establishment of a labour foundation for professional reorientation
Establishment of the new employee share foundation
Works agreement on the employer's pension fund payments
Regulation for a job change within the Group
Working hours and barnch opening hours
Protection of personal data
Revision of the procedure for disciplinary measures, etc.
✓ New world of work:
Extension of mobile work arrangements
Assistance with relocation to the Campus relocation and troubleshooting, e.g. room climate, noise
Support in the use of new work equipment and working methods
✓ Communication and exchange
Strategic dialogue with management and experts on impact on employees through business model, digitization, qualification
Regular exchange and close cooperation with the department stewards
Creation of numerous info sheets with information and tips, for example on salary, working hours, illness, mobile work, parental leave
✓ Consulting expertise:
wir machen was

conducts numerous confidential consultations in Erste Bank und Erste Group!
Various consulting topics such as Various consulting topics such as Salary check, grading, child allowance, overtime allowance, pension fund, bonus, partial retirement, pre-pension solutions, option in old service rules, retirement, change within the group, resignation, industry labour foundation, extent and location of working hours, 4-day work week, full-time/part-time, time compensation, exceeding of Maximum working hours, SAP-ESS, holidays, sabbaticals, branch opening hours, baby-sabbatical, parental leave, childcare allowance, re-entry, parental leave, family bonus, care leave, nursing sabbatical, re-entry after a long illness, business trips, off-site meetings, change of job, goal agreement and appraisal, sales targets and control, data protection, security, training, educational leave, promotion, employee participation, employee conditions, mobile work, room climate, noise, desk sharing, cell phone, residence outside Austria, cross-border commuters … and much more.